Walter was born a decade after the first Social Democrat won the presidency and implemented far-reaching reforms aimed at establishing fairer opportunities such as education and employment for everyone.
Although the book was conceived over 15 years ago, today's political environment forces us to consider and debate many of the topics included.  It is no wonder that this book is striking a chord with both liberals and conservatives alike.
By creating this book as fiction, I was able to push the envelope, allowing the reader to consider the heated debates of today from a very different perspective.
Plus, through the eyes of very compelling characters, the reader will connect with their own experiences and emotions to decide for themselves,
What is Fair?
I dedicate Dominant Trait to my Grandmother Shiela who, on Aug 25th 2019, turned 98 years young.  On her birthday, I presented her with the very first printed copy of the book.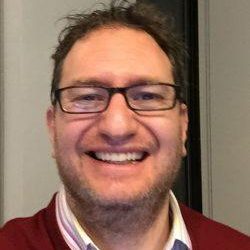 After 25 years working in advertising, digital media, and marketing research, Michael decided to take time off to write about a question he contemplates every day:
At 21, they escorted me out of
the Syracuse University
auditorium for asking the question,
"Is it fair?"